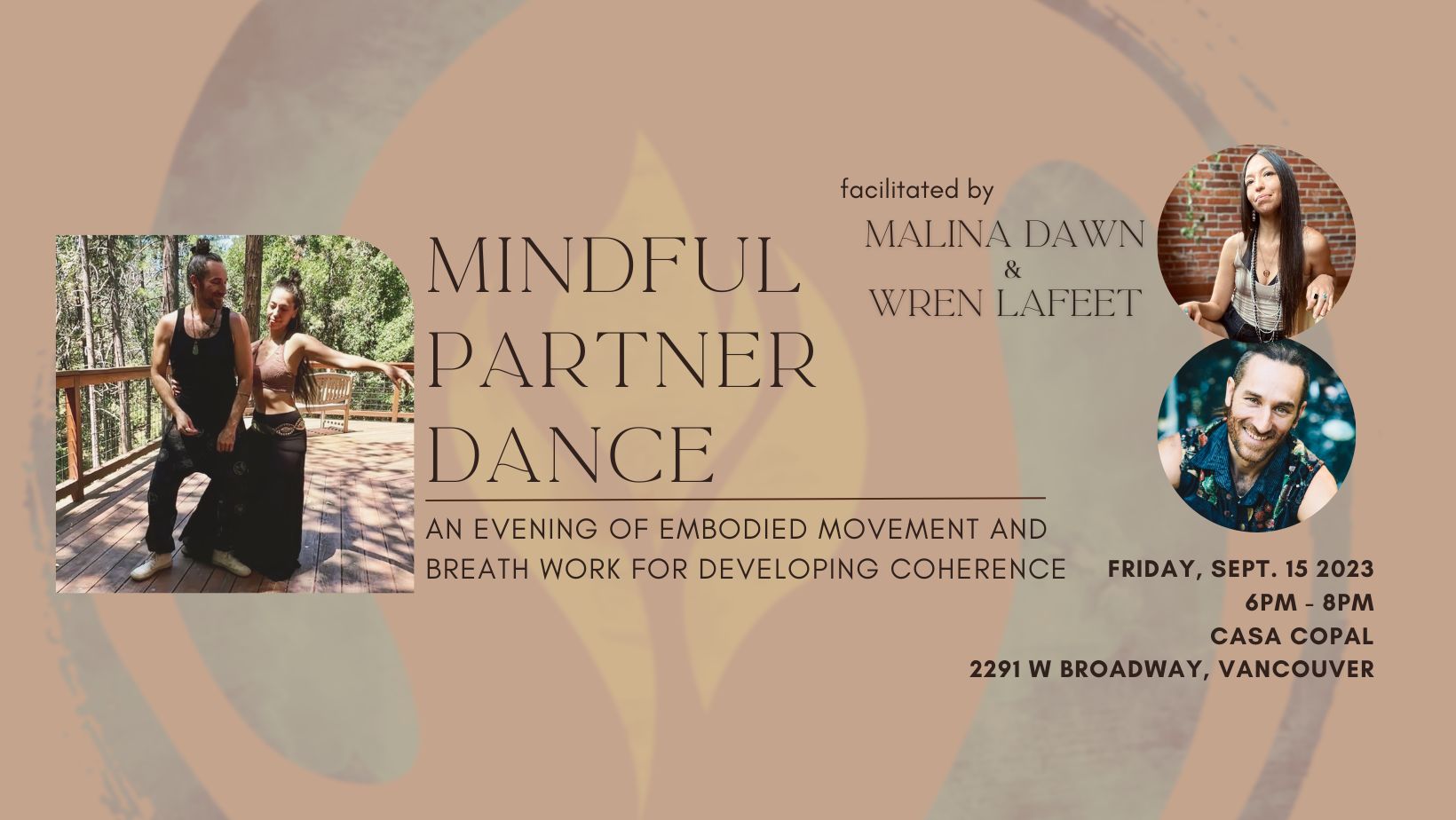 Casa Copal
2291 W Broadway
Vancouver, BC

DATE & TIMES

Friday, Sept. 15, 2023
6pm – 8pm
EXCHANGE
Sliding Scale
$20-$50 Advance
$30-$60 At the Door
To reserve your spot, send via e-Transfer:
m_rehm (at) hotmail (dot) com
My key take aways from Cocréa are the power of listening, invitation (consent tools), conversational dance, and EMBODIED dance.
I was so inspired watching the two of you lead, facilitate, move/dance and connect together in such a kind, vulnerageuous and loving way– what a joy this was!  I appreciate so much how you are with your community, your principles/values, and how dedicated you are to bringing more justice, equity, love, connection, transformation, presence and playfulness into the world.
Mindful Partner Dance
Mini Workshop
Drop in for a brief but potent experience in deep somatic listening through movement, breath and play. 
This playshop is intended as a space to uplevel your attunement and sensitivity through the medium of organic, lightly structured partner dance, while also giving you tools and vocabulary for generating intimacy and play as mature, feeling, sensual and vibrantly alive humans being.
We are Wren LaFeet, embodied movement facilitator, and Malina Dawn, embodied breathwork therapist, and we are revelving in exploring what it looks like to team up and share our gifts in service of expanding presence and joy. 
Through powerfully attuned inner listening and connection to self we can step into a co-creative dance experience guided by embodied consent principles. Consider this evening a glimpse into the reverent dance we refer to as "the inner dance"; a place where the experience of profound connection to self, each other, and all of life shimmers into awareness. This is the dance that happens within; when the dancer allows themselves to BE DANCED.
Malina will guide us in some breath work to activate the body and chi, and Wren will guide a connective movement experience that will lead us into the potential of co-creative bliss. 
A continually evolving holistic, embodiment practice, Cocréa strives to seamlessly weave the following into coherence through the connected fluidity of Fusion partner dance as inspired by American vernacular Jazz and Urban dances:
Skills and Practices for Navigating Empowered Interpersonal Relationships

The importance of Consent and Communication

The practice of coming into Right Relationship

Mindfulness Practices

The Organic Expression of Authentic Movement

Concepts from Contact Improvisation

Deconstructing Gendered Dance Rolls

Exploration of the Resolution of Conflict through the lens of Theater as a Pathway of Transformation

A Contemplative Approach to Life through the Wild Wisdom of the Gene Keys

Deep Ecology and the Role of Humans and Dance in Earth Stewardship

The Potency and Power of the Breath

Power and Surrender
Wren LaFeet
Facilitator • Cocréa Director and Co-Founder
Wren is celebrating the exquisite privilege of getting to dance in partnership for almost 25 years and loves serving humanity as a somatic permissionary. Teaching partner dance internationally as a practice for mindful, authentic living, and enlivening communities by facilitating his signature modality, Cocréa, has been his joy for over a decade. Wren guides humans curious about embodiment towards right relationship by exploring the realms of Self, Earth, Music, Sacred Other, Community and Whole through listening and responding, and inviting, allowing and embracing change.

Wren is an able bodied white male residing in Awaswas Ohlone territory (Santa Cruz, CA). As a non-binary identified, 11th generation American descended most recently from artist and blue collar working class parents, Wren is in a deep reckoning with the numerous and nuanced aspects of self that influence how we navigate interpersonal relationships and cultural identity on the journey into right relationship.
Wren promotes dance as an embodied approach to spirituality that spans the chasm between false refuge and celebration through surrender, and as medicinal salve for our modern ailments of disconnection and dislocation.
Wren holds a BA in Drama and Dance from the University of Washington, and has
12 years experience offering movement and embodiment facilitation professionally. He is a TEDx speaker, featured author in "ReInhabiting the Village" and ardent proponent of pioneering a new renaissance through authentic connection and consensual touch. 

HeartMath Certified Trauma-Sensitive Practitioner
RADT-1 Substance Abuse Recovery Counselor, Embodied Recovery
Certified Attunement Therapy practitioner, Tristan Bray
Awake at Work trained mindfulness facilitator

Malina Dawn
Breath Work Therapist & Facilitator
Malina is a queer nehiyaw-ahpihtawikosisān iskwew (Cree Métis woman) who weaves together, the worlds of indigenous wisdom and yogic knowledge. Raised on the prairies and well travelled through her young adult years, she found her own healing path through Yoga and the Red Road.  Through reclaiming her culture and applying the principals taught in traditional ceremony and the science of yoga, she has experienced great healing and personal transformation. Through this indigenous world view and way of life, she has discovered how these two paths have parallel teachings, deep roots, sweet medicine and weave together beautifully.  She is now a drum carrier and learns the traditional teachings under the guidance of her elders.
She is a strong voice for decolonizing wellness by teaching how to use traditional, indigenous, and yogic ways of life appropriately and as medicine for healing physically, emotionally, mentally and spiritually.  She uses her experience and knowledge of the medicine wheel to offer a unique understanding of the yoga path. 

Today she creates healing spaces for in person and online yoga classes, retreats, ceremonies, workshops and trainings all over turtle island. She has spent the last 15 years working with indigenous, non indigenous and LGBTQ2S+ youth.  She continues to work with people of all ages and walks of life to guide them to the reclamation of their own culture, identity, body and healing through a trauma informed lens. She is passionate about sharing her culture, building bridges in community, emotional intelligence and honouring the interconnectedness in all of Creation.
She is currently living, learning, unlearning and loving life on the traditional unceded territory of the xʷməθkʷəy̓əm (Musqueam), Sḵwx̱wú7mesh (Squamish) and səl̓ilwətaɁɬ (Tsleil-Waututh) Nations. (Vancouver, BC)