JOIN WREN LAFEET in an experiential embodiment practice based in the forms of many of the world's social partner dance techniques, while inviting and allowing an easeful flow of ideas to emerge through listening and responding to the moment.
EMBARK ON A SOMATIC JOURNEY TOGETHER in this contemplative and connective movement practice that weaves elements of contact improvisation, blues, swing, authentic movement and relating, tango, and more!
As we hone this dynamic, kinetic toolbox, we emphasize connection, communication and presence between two people within a community of others. Allowing intuition and feeling to guide the partnership, their centers and frames to support it, Cocréa celebrates our ability to embody profound joy through being in a body while moving in harmony with another body.
Weaving the threads of permaculture, consciousness, embodiment and emergent leadership, the practice focuses on inviting, allowing, acclimating and relaxing into ever deepening levels of listening. Facilitators craft containers imbued with trust and permission, empowering dancers to surrender and enter into flow state. 
In this state, we see the possibility to enhance and elevate the realm of human relating into a deeply connected, honest and powerful tool for transformation and cultivation of a humanity in pristine coherence with our planet and all life!
GOALS OF INSTRUCTION
Give you empowerment to enter into partnership confidently on any dance floor regardless of musical genre.
Provide a context for you to connect in a positive, supportive and mutually enjoyable manner.
Expand your movement vocabulary by guiding you through a progressive curriculum.
Gain greater body awareness and sensitivity – both physical and emotional – to your partner.
Practice deep listening to adjust and adapt to what is emerging between you and your partner in keeping with good consent.
Build physical, emotion and spiritual resilience to change.
Grow into releasing expectations and agendas.
Learn to invite, allow, accept and embrace what is.
BENEFITS
Develop mindfulness and deeper body awareness.

Open gateways to your creative mind.

Exercise confidence in all your interactions.

Get an excellent, full body workout.

Learn and practice valuable consent tools for being in integrity in all your interactions.

Nurture authentic, compassionate and intimate connections to those with whom you relate.

Create calm in your life through engaging mirror neurons and offering your body the touch it needs without expectations, attachments or entanglements.

Increase your intelligence through the one activity scientifically shown to activate the neuroplasticity of the brain and decrease the risk of dementia and Alzheimer's more than any other – social partner dance!
CENTRAL CONCEPTS
Communication – Listening and responding to what's true in each moment.
Consent – Tending to one another's yeses and nos – as well as our own – with impeccability and respect.
Conversational dance – blurring the line between lead and follow moving towards a roll-less dance.
Spinaesthesia – Jedi musicality. Sensing music as movement in your body.
Flow State – letting go of the mind and entering into complete embodiment of our highest frequency.
Dynamism in partnership – dancing with non-duality in all the places along the spectrum.
Technique – dancing sustainably, setting yourself up for a lifetime of dancing.
Please join us for a weekend of rich development in dance and authentic relating!
"I want my LIFE to feel like that dance."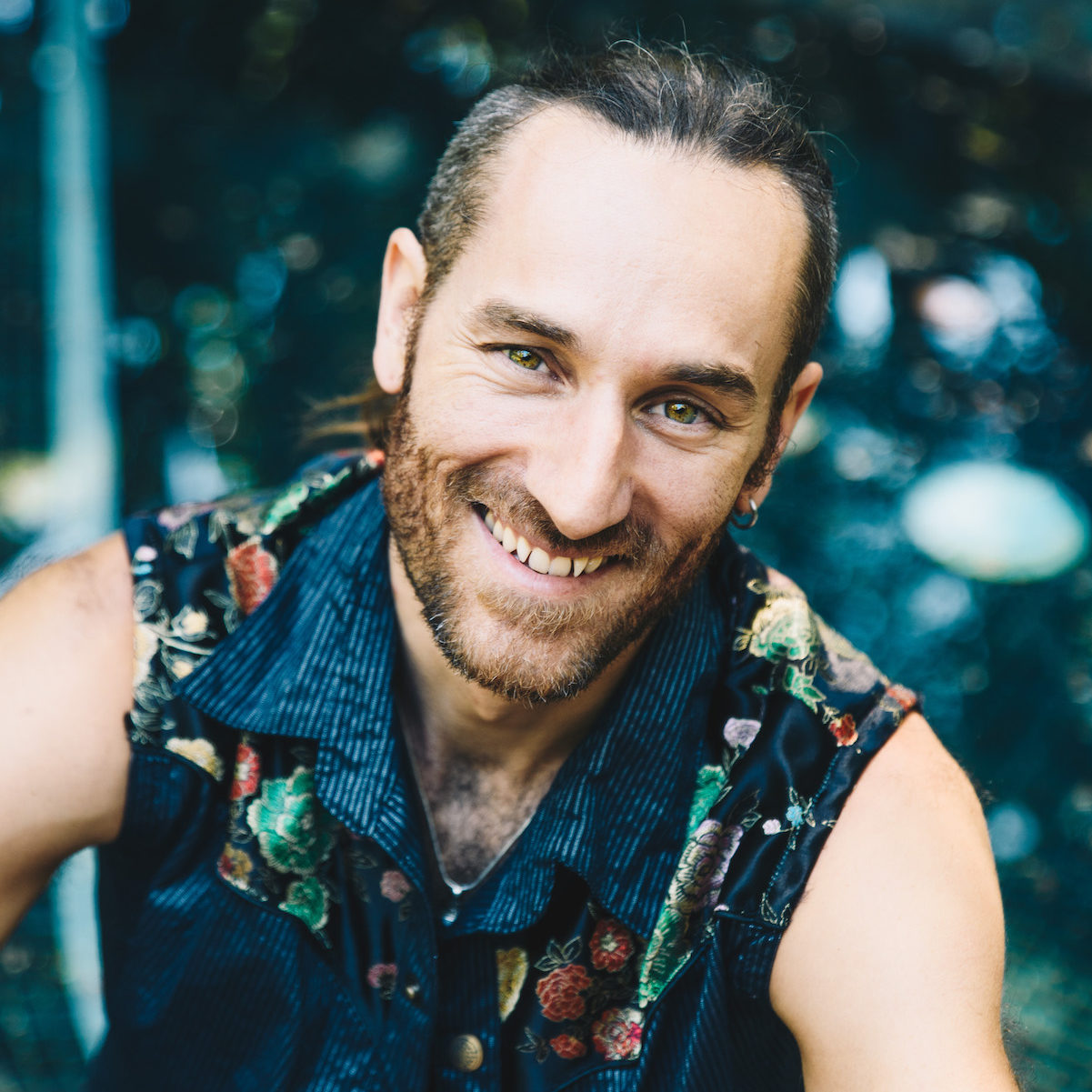 Wren LaFeet
Founder, Facilitator, Cocréa Mindful Partner Dance
Wren has  nspired the formation of multiple dance communities in North America, and continues to offer intentional partner dance spaces internationally as a practice for mindful, authentic living. His facilitation encourages individuals to create themselves as safer spaces for the embodiment of the full range of human expression. Promoting dance as a salve for our modern ailments of disconnection and alienation, his practice insists we trust our bodies with the music and our partner to catalyze elevating our whole being into higher vibratory states.
CREDENTIALS
BA in Drama and Dance, University of Washington

In 9th year of offering movement and embodiment facilitation professionally

Certified Danyasa Inspired Yoga Instructor, lead by Sofiah Thom

Awake At Work Mindfulness Facilitator Program Graduate and Collaborator, lead by Anakha Comen

Do Good Things with Power Embodied Leadership Program Graduate, lead by Zahava Griss 

Author in the published work, "Reinhabiting the Village,"

TEDx speaker, "Pioneering the New Renaissance through Movement, TEDxBend

Pacific Performance Project (P3), Intensive Training Graduate with Robin Hunt, Steve Pearson and Peter Kyle

Actors Theater of Louisville Apprentice Program, 2003-2004

Featured Presenter: Abundant Leadership Retreats, Body Intelligence Summit with Gay and Katie Hendricks, Conscious Dancer Podcast, Beloved Festival (4 years)
Read Wren's full bio and learn about Cocréa's other facilitators and collaborators here.
I learned more about how to improve my dancing in 3 hours than in the last 10 years.
If you see these people doing a workshop in with in a 10 hours drive, you should make it, is not just a dance class, is a life training, that helps with all forms of connections and relationship.
COVID CONSIDERATIONS
As usual, if you are feeling sick, please stay home!
No vaccination required however it is welcomed.
If you are desiring to dance only with vaccinated people, we will create opportunity within the room for that to happen.
DATES AND TIMES
Friday Oct. 15th, 1-3pm
Saturday Oct. 16th, 1-7pm
Sunday Oct. 17th, 1-7pm
SPECIAL FRIDAY NIGHT ECSTATIC DANCE LOCATION: TBA
DJed by WREN LAFEET
This will be a full weekend with two days of workshop sessions building on each other.
No housing on-site.
Nearby accommodations available through AirB&B and local friend stays.
LOCATION
Sun and Moon Studio
RESOURCE EXCHANGE 
$95 before Aug 16th
$125 before Sept 20th
$175 before day of event
$195 at the door Saturday

Friday Intro Class: $20-40 sliding scale suggested donation
No one turned away for lack of funds
For scholarship or work trade opportunities, please contact Mary at positivelymary (at) gmail (dot) com.
Through the practice of Cocrea, I have learned more about myself and the limitations I put on myself, in order to better counteract them. I don't give myself enough credit for my abilities and am often hindered by lack of confidence. Cocrea gives me that confidence to explore, and trust, and be in a community where everyone is in support of each other, and knows how to ask for help and support.
Embodying Change
We envision a world in which everyone has access to a living syllabus of empowering tools for embodied relating which honor the present truth of each being. Through practicing with this ever evolving toolbox of Cocréa, we achieve the intimate relationships we most desire in coherence and harmony with our loved ones, our communities, our planet and ourselves.
Join our Mailing List below and receive Three Keys to Improving All your Relationships through Partner Dance FREE!