Welcome to the Dance Your Medicine retreat page for our 2023 event.
Enjoy the photographic journey of the week-long retreat shot by Foster Snell, and scroll down to learn more about the programming and offerings.
Thank you for visiting and we hope you'll join us for an event soon.
Stay In Touch to Learn About Our Next Retreat!
Prepare to be Melted by the Beauty of Posada Natura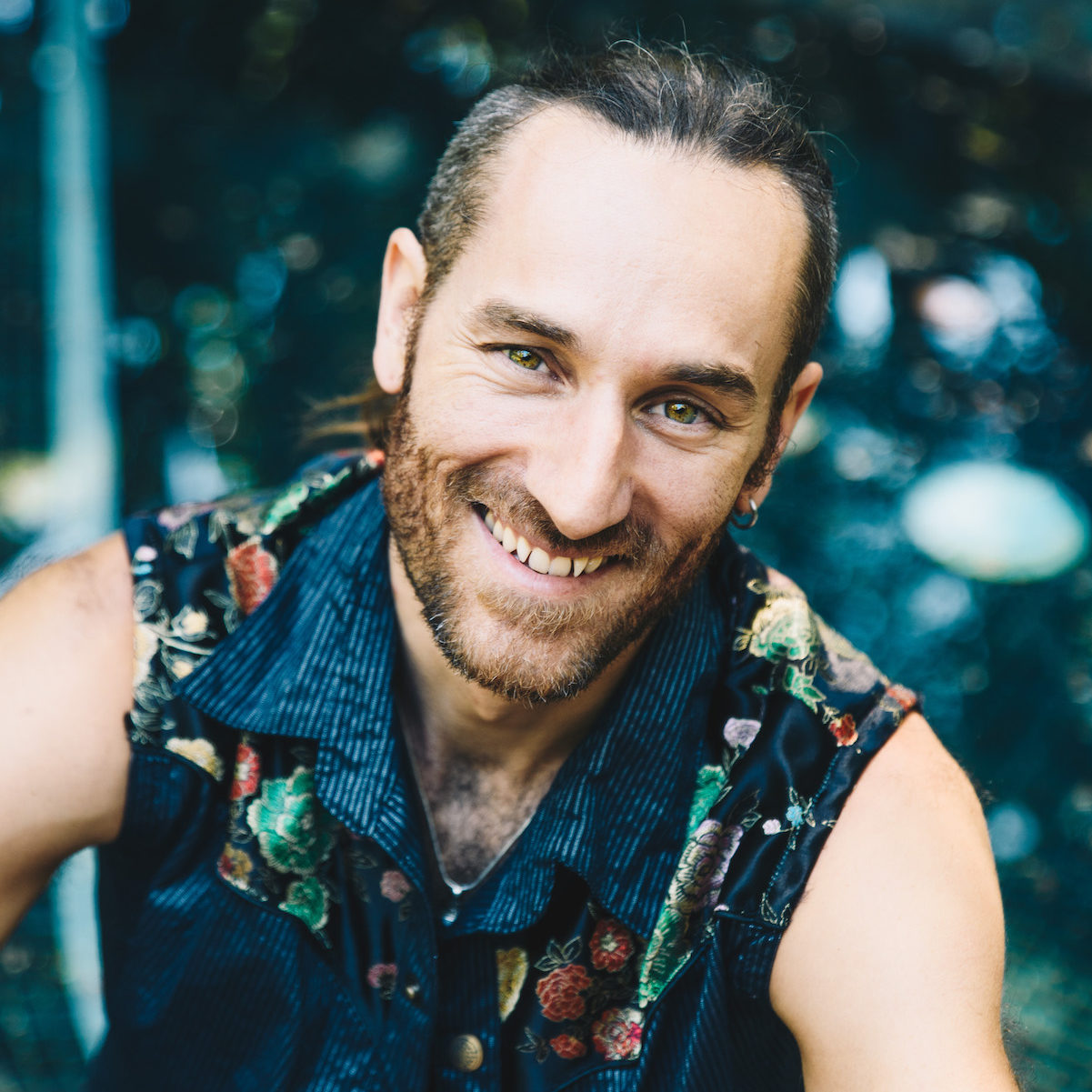 Wren LaFeet
Cocréa Founder and Retreat Co-Lead Facilitator
Wren celebrates dancing in partnership for 23 years and loves serving humanity as a somatic permissionary. Teaching partner dance internationally as a practice for mindful, authentic living, and enlivening communities by facilitating his signature modality, Cocréa, has been his joy for nearly a decade. Wren guides somatically curious humans towards right relationship by exploring the realms of Self, Earth, Music, Sacred Other, Community and Whole through listening and responding, and inviting, allowing and embracing change. He is a celebrated TEDx speaker, featured author in "ReInhabiting the Village" and ardent proponent of pioneering a new renaissance through authentic connection and consensual touch. 
Wren is a cis-gender, able bodied white male residing in Cherokee territory (Asheville, NC). As a psychonaut, consensual non-monogamy practicing, non-binary identified, 11th generation American descended most recently from artist and blue collar working class parents, Wren is in a deep reckoning with the numerous and nuanced aspects of self that influence how we navigate interpersonal relationships and cultural identity on the journey into right relationship.
As a Danyasa trained facilitator, former Awake at Work program facilitator, certified Attunement Therapy practitioner, Do Good Things with Power program graduate, and holder of a BA in Drama and Dance from the University of Washington, Wren promotes dance as an embodied approach to spirituality and medicinal salve for our modern ailments of disconnection and dislocation.
Believing in life as a dance, Cocréa is a continually evolving holistic movement modality intended to bring individuals into strong, empowered, expressive relationships with their bodies and their communities.
At its core Cocréa is a somatic methodology for working with life's changes and adapting with them in order to share a more regenerative, nurturing and harmonious world. We build resilience by holding an attitude of curiosity and interest, pausing with depth of breath, listening into what's needed and true when offering new ideas, and before saying yes or no to invitations.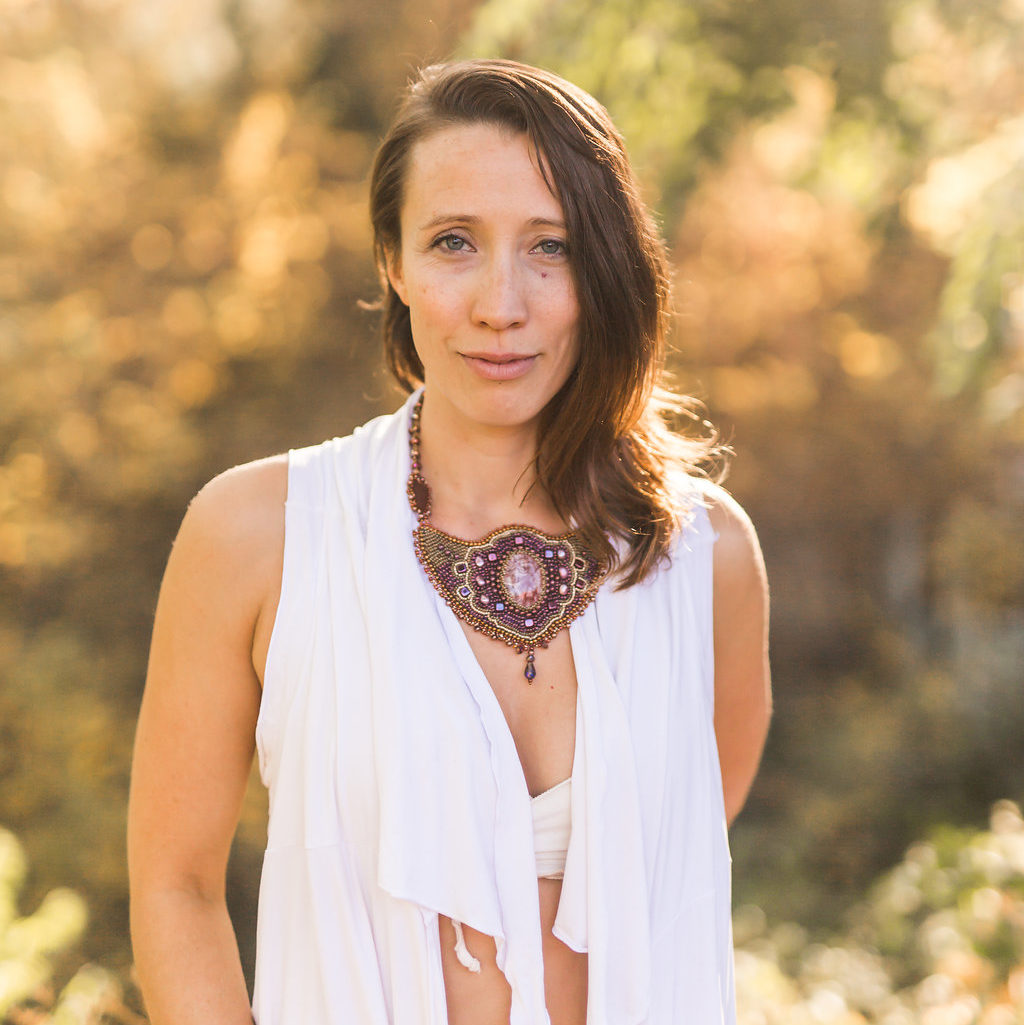 Odessa Avianna Perez
Retreat Co-Lead Facilitator and Trauma-Informed Somatic Educator
Odessa Avianna Perez is a trauma-informed somatic psychotherapist*, embodiment and social justice educator who helps individuals and groups heal from fragmentation and remember agency, magic, and belonging.
Odessa is a cis gender, able-bodied, biracial white-presenting latina currently residing in Tongva territory – aka Los Angeles, CA. She holds an MA in Somatic Psychology from California Institute of Integral Studies and triple bachelor degrees in Dance, Theater Arts, and Sociology from Rutgers University. She is a ThetaHealing practitioner and instructor, and has a background in massage and bodywork. She has over 2 decades of movement and dance performance experience, and has been practicing and teaching Contact Improvisation as a form of self inquiry and relationship alchemy for over ten years.
Odessa is deeply curious about the intersection of personal and collective trauma, collective nervous system states and expression, and how we can use somatics and dance to integrate our trauma for better relationship, community and planet.  She has facilitated workshops at dozens of retreats and festivals using somatics, movement, and contact improvisation as the platform through which to explore safety, relationship, building capacity for discomfort, interdependence and inclusion. 
In her psychotherapeutic private practice, she weaves somatics, movement, interpersonal neurobiology, polyvagal theory, attachment work, and social and racial justice frameworks. She is part of the Healer's Collective for the Decolonizing Wealth Project, and the Inclusion and Belonging co-lead for SoulPlay festivals.
*Odessa Avianna Perez is a Registered Associate MFT #118193; Supervised by Anna Howland, LMFT #99026; Employed by Center for Mindful Psychotherapy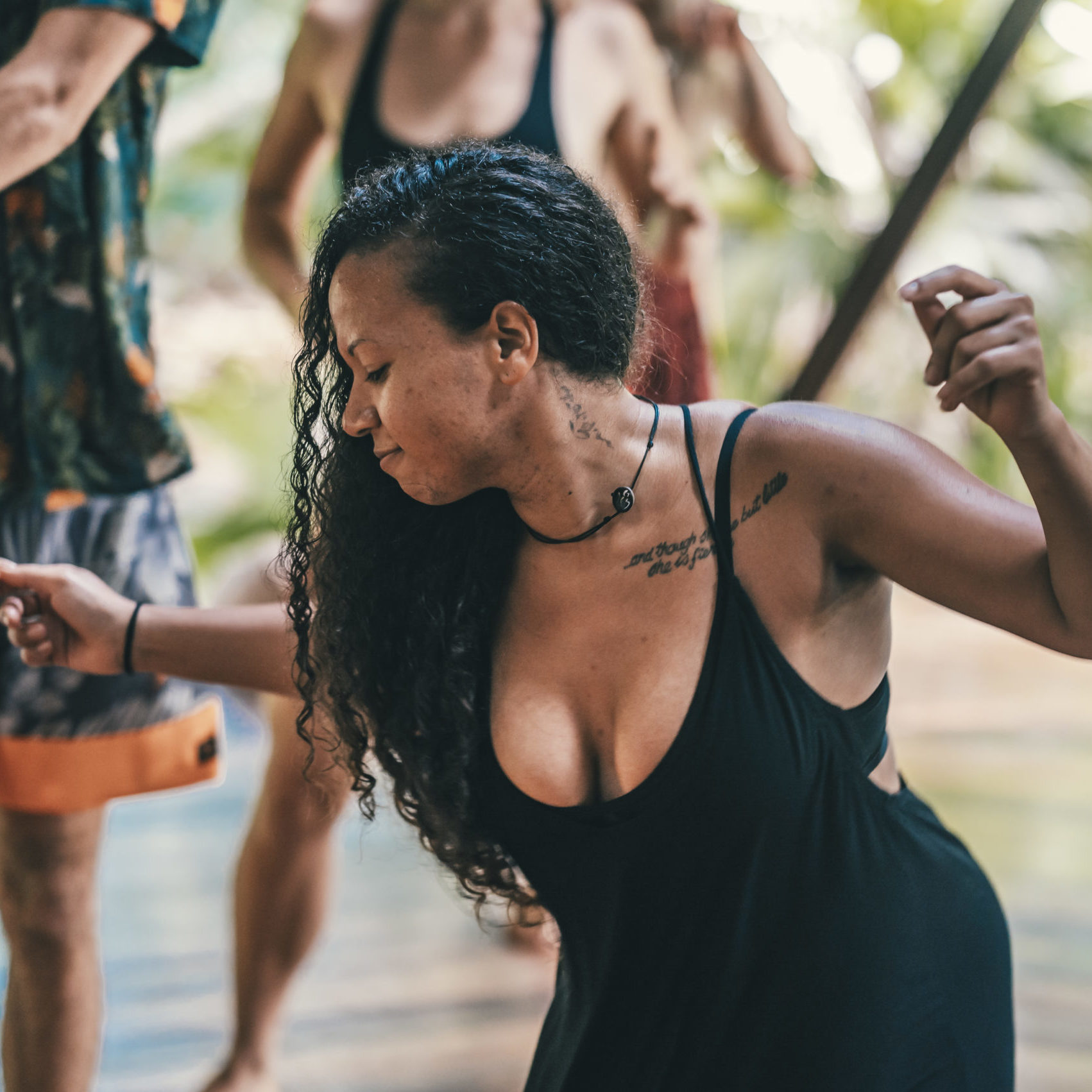 Natasha Richards
Yoga Teacher
A forever student, Natasha (or Taj) has been practicing and teaching yoga for the last decade. Her yoga journey has included Hatha, Vinyasa, Yin and Goddess flow certifications. Through movement practices, she's experienced her most profound moments of realization and emotional breakthroughs. Naturally she enjoys helping others tap into something new, be it emotions, sensations, or thoughts through the modalities she's most familiar. She believes yoga is a lifestyle and that lifestyles often ebb and flow with life. As she continues to grow and change, so does her practice as it incorportes traditional and nontraditional ideas, topics, music and more.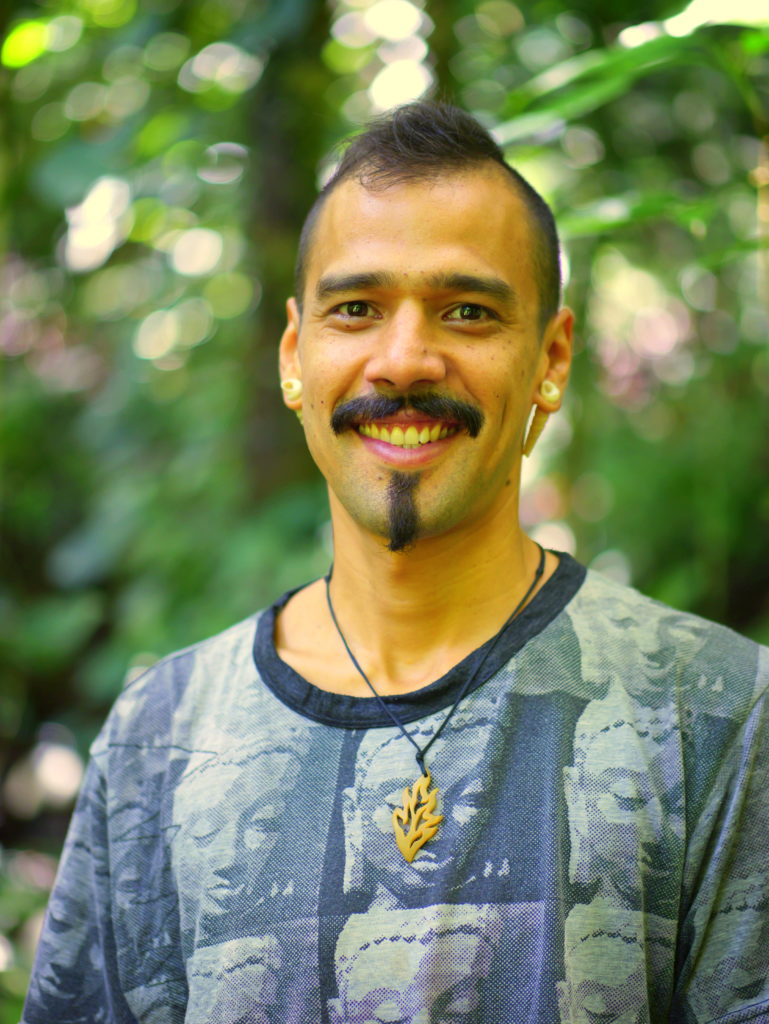 Yozef Luz
Yozéf is a student and explorer of movement in all its forms. As a meditator, the basis of his exploration is awareness and inner silence. He has studied Hatha, Raja, Anusara and Ashtanga Yoga and has had a profound approach to Kundalini Yoga which has led him to understand the energetic body in his personal yoga practice spanning 14 years. 
His first approach to Ecstatic Dance was in Nevada City, California. From this and other experiences after 7 months of travel, he joined a group of Contact Improv Dancers to found Danza Ecsta-Tica, the first monthly Ecstatic Dance event in San Jose, Costa Rica.
His path has led him to found Beyond Dance, an offering born from his heart that today has become a true local community that flourishes through the medicine of dance and music. Beyond Dance is an experience that is infused with his charisma and passion for movement and brings together and integrates all of his knowledge through breathing exercises, energy circle activations, meditation and a ceremonial environment essential to create a complete experience of physical, mental and emotional release on the dance floor.
Today he is considered the main Costa Rican precursor and promoter of this movement in the country and has given life to a multitude of ecstatic dances around the country. Yozef has participated as a Dj in Ecstatic Dance Paris and as a facilitator of Beyond Dance in Naples, Italy in 2020 and had the opportunity to be a facilitator of Movement and Ecstatic Dance in the Green Residencies of Momentom Collective in Macaw Lodge, Costa Rica in 2021 and 2022.
Naoba
Supported by the Spirit of Nature, Eco-centric healing means reconnecting to the body through the rekindling of intimacy to Nature.
Tamara Montenegro, aka NAOBA, creates spaces of deep resonance that facilitate the connection to inner world, each other and the Planet through intentionally crafted music journeys and theatrical therapy.
Her musical and somatic offering draws knowledge from ancient frequencies and instrumentation, mesoamerican shamanism and earth-rooted spiritual practices.
She innerstands the urgency of a person's soul initiation into community and the psychospiritual connection to grief, breakthroughs, pain and estrangement, and serves to create spaces of safe exploration of our bodies and minds through somatic dance and a deep research on psychoacoustic and neuroacoustic work.
Her unique background in both academic and extensive life experiences in community building and individual psychosomatic research brings the unique approach to music and sound healing that her sessions are known for.
INVITATION TO PARTICIPATE
SOCIAL JUSTICE AND RESPONSIBILITY
If you would like, we have an option to make a one time, $100 donation in addition to your event registration fee.
For every $300 in donation received from participants, Cocréa will match it with an additional $100. This ensures that we can cover the cost of food for a local Costa Rican desiring to attend, and offer our program to them on a pay-what-you-can basis.
By living – simply being alive – in a time of such change while holding systemic, global privilege, we at Cocréa believe that we have a responsibility to leverage that power to do good things. 
Our time here is finite. As such, part of the way we desire to leverage our power is by providing access to our programming at minimal cost to those for whom the cost of an event would be prohibitive.
Everyone deserves to have a good time dancing with others, no matter what culture you were born into. 
We also believe in ending systemic oppression which is why 1% of all our year end profits go to Color of Change, and 1% of THIS event will go to the Found Nation to assist in their continuing work of enriching the lives of some of Costa Rica's remaining indigenous people, the BriBri.
DETAILS
We are creating space for 1 Non-Costa Rican BIPOC scholarship participant, and 1 Tico participant.
Our BIPOC Scholarship is intended to support access for this event in the context of historical and present day systemic inequities that disadvantage people of Black, Indigenous, Latinx, Asian and mixed-race heritage.
BIPOC SCHOLARSHIP APPLICATION
Please take some time to thoughtfully complete our scholarship application form. Whether you are Tico or non-native to Costa Rica, we will use this same form to determine awarding our scholarship positions. We look forward to hearing from you!
Why Partner Dance?
Dancing in intentional connection with others offers a wealth of benefits. It has been shown time and again how necessary it is for us humans to engage in healthy, physical contact with one another. We hold this truth at our core and endeavor to offer spaces for this need to be met in a good way. Building upon this foundational aspect of our humanity, Cocréa opens doorways to finding versatility and ease as we move through life.
Improve Communication
Improve awareness and sensitivity to emotional and physiological states of other people.
Practice listening to verbal and nonverbal cues.
Calm the mind to increase presence and attentiveness to another person's sharing.
Increase emotional intelligence.
Embody Consent
Practice asking for and giving your full embodied No and enthusiastic Yes.
Honoring and respecting boundaries.
Interpreting and understanding body language.
Build Confidence
Practice taking risks and trying new things in a supportive environment.
Become more comfortable with spontaneously expressing yourself through movement.
Enjoy the experience of feeling grounded in a powerful, fluid body and calm, curious mind.
Practice Community
Add variety and fun to your week through playful interaction with likeminded people.
Gain skills you can teach to existing dance partners.
Experience a sense of belonging within the larger Cocréa and Fusion communities.
Connect online with national and international Cocréa community.
Have fun and laugh with new friends.
Expand Creativity
Open new neural pathways of self-expression through exploration of dance form and a diversity of music.
Strengthen and integrate all the parts of your body to support that expression.
Release self-limiting beliefs that hold you back from being fully expressed.
Develop trust in the phenomenon of emergence and learn to be guided by the moment.
Enhance Somatic Awareness
Discover movement of your body as a living wisdom within you.
Develop stronger body awareness for more graceful movement.
Master spatial awareness for greater ease of movement in daily life.
Find flow as you move through your world.
Ready to Shift Your Paradigm?
We currently will require everyone who attends the event to provide a negative COVID test within 72 hours of ARRIVING AT POSADA NATURA.
If you are taking a shuttle to Posada Natura it is suggested that you take an antigen test in the presence of another participant before boarding your shuttle or taking your test on arrival to Posada Natura with a member of the DYM facilitation team, before checking in.
We desire to hold the safety of both our attendees and our host country in the highest degree possible and as required of us by the venue.
In the instance that Cocrea needs to cancel the event, 100% of your ticket will be credited for a future Dance Your Medicine retreat to be announced.
We reserve the right to change this policy as conditions and circumstances around world health change.
See Our Refund Policy Here:
FAQ
Is there transportation to and from the venue?

In order to make your journey to Posada Natura as smooth as possible we will be organizing private and/or group shuttles from SJO airport to Posada on Friday, March 24th, 2023. Depending on arrival dates, we can organize shuttles earlier if necessary. We will also organize shuttles for departing Posada to head back to SJO on March 31st. Note: there is an extra cost for the shuttle, prices vary depending on the number of people on board. Shuttle is from SJO to Posada and vice versa, no extra stops in between besides a quick bathroom stop. Drivers accept cash in colones. If you are coming or going from somewhere else, please get in touch with us to help you arrange your transportation separately.

What airport is the best to fly into?

SJO, Juan Santamaría International Airport

Will I be able to go to the beach?

The retreat center is on a beautiful river and the nearest beach town is about 30 minutes away. We suggest you book additional time before or after the retreat to enjoy the ocean.

What's the nearest town?

Londres is the nearest town and the closest ATM. You will need to find a ride there if you need to use the ATM and we suggest you get money at the airport when you arrive.

What would I need money for during the retreat?

If you would like to purchase local cacao grown on the land we'll be staying on, that will be available for 8000 colones (approximately $16). There is also a small shop with clothing and jewelry if you'd like to shop a little.

Is there lodging near SJO if I am arriving early or staying after?

Yes, Villas Norma is a great place to stay and is 15 minutes from SJO. Find more info here: Villas Norma


Can I still book 1-on-1 sessions with the facilitators?

Yes, the facilitators will be available for a limited amount of sessions that will be available to purchase as add-ons. During the retreat Natasha and Wren will be having sessions and after the retreat Odessa has a number of sessions available between April 1st & April 14th. You can purchase these through our ticketing link here: Purchase 1-On-1 Add-On Session

Your Transformational Dance Journey Awaits