Fusion Micro-Festival in Port Townsend on Saturday, January 14th!
Join Wren LaFeet, the dancer who brought Fusion to Port Townsend, for a day of Fusion classes designed to inspire and uplevel dancers.
Wren is excited to be returning to his roots in Lindy Hop for inspiration in these classes. Since 2012 he has been gathering many different ideas into his brand of Fusion, called Cocréa. This day brings together mindfulness, consent, energetic attunement and all the things you likely love about Fusion dance already, including the juicy bass, bumping music. 
With 24 years of experience in partner dancing, and a lifetime background in theater, Wren calls his teaching style, "facilitainment". "Facil" in Spanish means easy. So combined with the word attainment, he loves to make attaining advancement and understanding both easy and fun. 
This day of classes is meant to bring dancers of different levels together, but be accessible to all. If you take the whole day as a progression, you'll absolutely be able to grasp the material the whole way through. Wren has been honing his teaching for 11 years, and has an uncanny ability to bring novice dancers up in level with incredible speed and efficiency. 
His primary motivation is to spread the joy, connection and healing power of partner dance. He is so happy to be returning to one of his most beloved homes, where his Mama lives, and one where he finds so much inspiration both in movement as well as in stillness.
Read more about Wren LaFeet Here
LOCATION
Madrona MindBody
310 Fort Worden Way 200 Battery Way, Bldg 310
Port Townsend WA 98368
EXCHANGE
FULL WEEKEND
$100-$150 sliding scale (pre-register) (100/125/150)
$120-$175 sliding scale (at the door) (120/150/175)
(both the above include dance) 
A LA CARTE CLASSES
$20 pre-register
$25 at the door
EVENING FUSION DANCE
7:30-10:00 pm
DJs Wren LaFeet and Sarah Peller
$10-$20 sliding scale (pre-register)
$15-$25 sliding scale (at the door)
WORKSHOP SCHEDULE 
1:30 – 2:30 Intro to Mindful Partner Dance (Novice) 
With its origins in the Fusion partner dance movement, and giving huge appreciation to Blues, Swing, Hip-Hop and other resistance dances that have massively shaped fusion, the Cocréa practice is to meet one another where we are and engage in an explorative movement dialogue while paying attention, with intention, non-judgmentally. As we hone this dynamic, kinetic toolbox, we emphasize connection, communication and creative expression between two humans within a community of others, and endeavor to make ourselves a safe space for others to express and interact with.
2:40-3:40 Blues Fusion: Groove and Flow (Beginner) 
Using the Blues vernacular, this class teaches the juicy qualities of blues with different musical contexts and helps dancers craft smooth, elegant, and unified dances. Groove, pulse, contrabody, swivels, we'll get into all that jive and be a lot looser and hopefully more free by the end.
3:50-4:50 Spinaesthesia: Refining Musicality and Tone for Clearer Communication (Beginner – Intermediate) 
Learn some sweet skills specifically tailored to help you embody the high variability in much of the break-beat electronic music genre we love to dance to in Fusion. We'll play with refining connection, stalls, tone and speed ramps, recognizing when the music is about to hand you an epic drop to accent, and how to communicate how you want to express it all with your partner without exploding. ;P 
5:00-6:00 Swing Hop: Lindy Hop and Hip Hop Fusion (Beginner – Intermediate)
The world of Hip-Hop offers so many versatile movement ideas to incorporate into our dance. We'll focus on the shapes and physics of Lindy Hop without getting in the weeds on the footwork, and see how this syncopated 8-count dance drops into a swagger filled, back-beat joyride of fluid delight. 
Meet Your Djs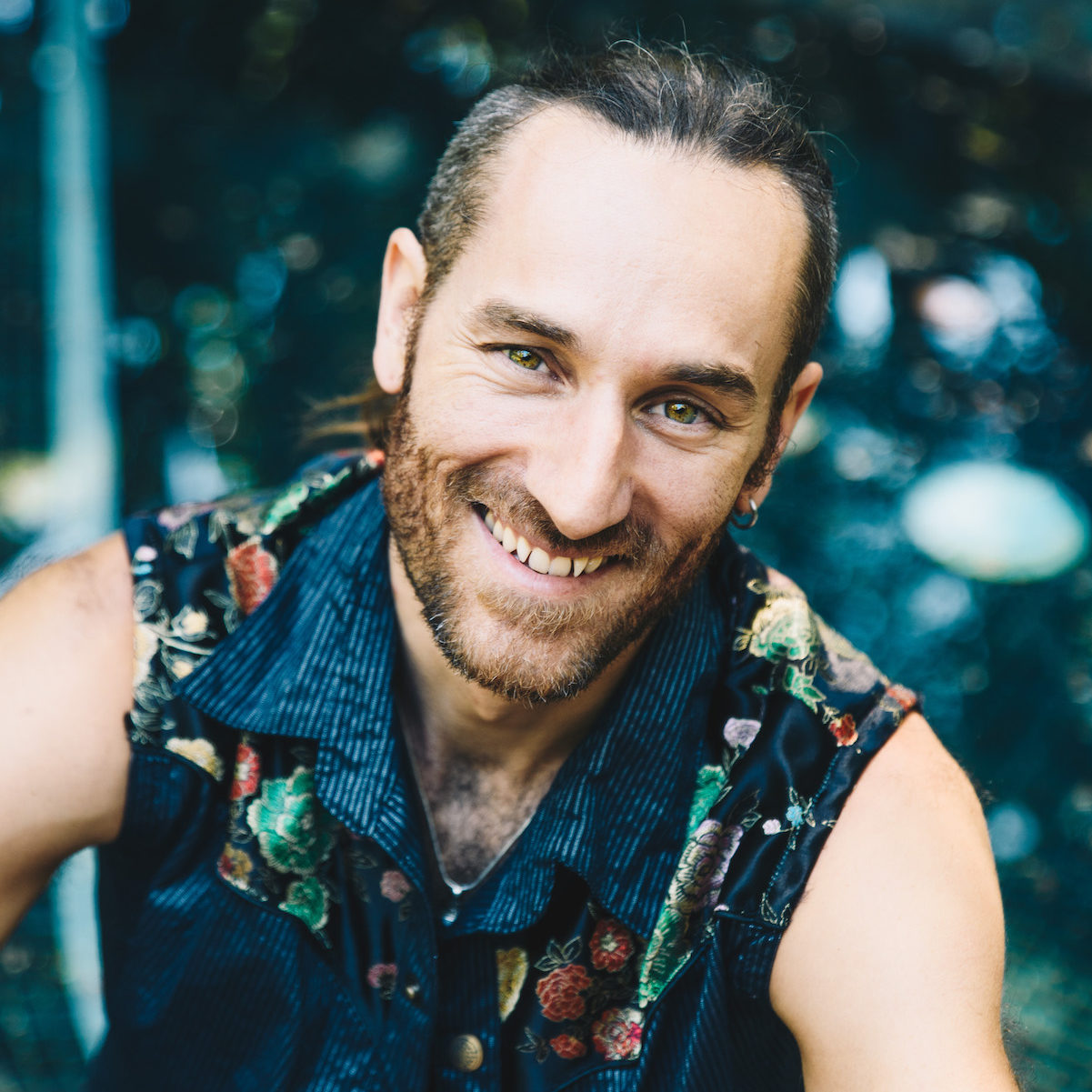 Wren LaFeet
I view dance as a form of Jedi Music Appreciation through which the dancer opens themselves as a conduit for the music to express through. In essence, "the dancer" gets out of the way and allows themselves to be danced.
My genius shines when guiding people into their willingness to play, engage, connect, and push edges. I anticipate and celebrate a world where the cultivation of mindbody and emotional intelligence is paramount in the continual revolution and rebirth of how we live, work and relate.
Join my mailing list to get your Free Gift of The Three Keys to Improving All Your Relationships through Partner Dance!
Join Here
1:1 Coaching and Personalized Partner Dance Experiences:
Schedule Here
Sarah Peller - DJ Pixel
Sarah Peller, AKA DJ Pixel is a lover of music and dance. She is part of a wide variety of dance scenes and appreciates music from all over the globe. She loves creating community through music and dance for all ages. She currently organizes the fusion & swing scenes in Port Townsend, WA and DJs at their weekly dances. She's a guest DJ at various NW Fusion events. She also loves to create magical forest dance parties and free community parties which she loves to DJ as her alter ego, DJ Pixel.