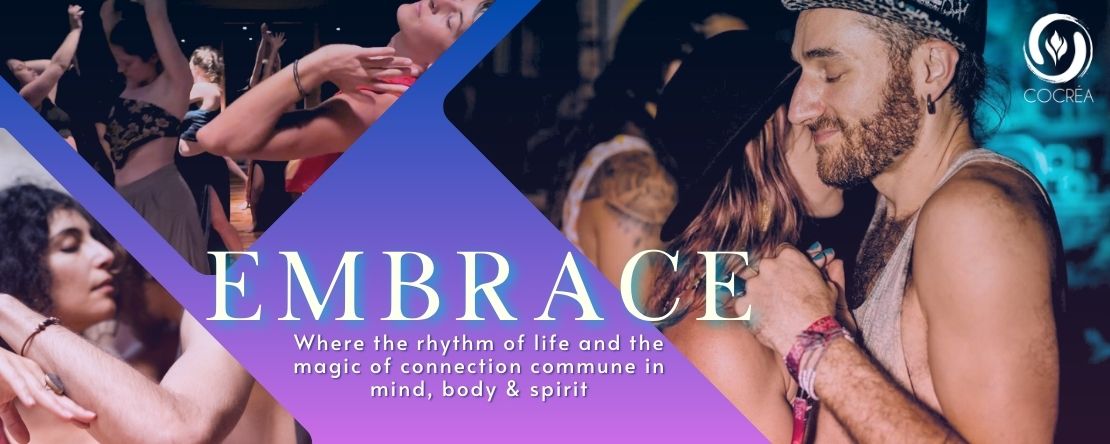 Anahata Yoga and Wellness Center
6264 Highway 9
Felton, CA 95018
DATE & TIMES

Every 1st & 3rd Sunday of the month
6:45pm – 9:30pm

EXCHANGE
Sliding Scale
$15 – $30
My key take aways from Cocréa are the power of listening, invitation (consent tools), conversational dance, and EMBODIED dance.
I was so inspired watching the two of you lead, facilitate, move/dance and connect together in such a kind, vulnerageuous and loving way– what a joy this was!  I appreciate so much how you are with your community, your principles/values, and how dedicated you are to bringing more justice, equity, love, connection, transformation, presence and playfulness into the world.
SCHEDULE
6:30 – Doors Open & Setup
8:00 – Doors Close :: Dance Container Opening
9:15 – Connection & Closing
Welcome to Embrace
We invite you to
partake in a lovingly curated movement space
that encourages a community of folx who express themselves and find nourishment through delicious feeling, intentional partner and solo dance. 
In this space,
we lovingly nurture the human longing for connection
and the nurturance available when we consciously and intentionally choose to share coherent movement with another human (or humans). 
There are many spaces to move energy in a totally organic, free-form manner.
We relish structure
offered by the firm, supple frame of another body showing up to co-create deliciousness with us. 
We welcome the surrender
required to create something beautiful that is larger than the sum of ourselves and our partner within a community of mindful, expressive and courteous individuals.
The
COCRÉA DANCE CULTURE
is guided by consent and right relationship. This requires deep listening and presence. We are
NOT AN ECSTATIC DANCE
, although we certainly encourage ecstatic states, be that through wild physical expression, or a quiet encountering of bliss that results in stillness.
We invite the full spectrum and
we host a BRAVE space
for everyone to show up holding it TOGETHER. WE create a SAFE space TOGETHER. We are all responsible for our impact.
Our invitations are manifold and our desire is the potent sense of connection that we ( Cocréa and its agents) know and have experienced is possible when we say yes within a strong field of agreements.
INVITATIONS

We invite clear eyes and auric fields!
Embrace and the intelligence supporting it, Cocréa, is about practicing authentic relating and holds consent as central to its teachings. It's challenging (or impossible) to obtain consent when altered. As fun as it is, this is not that party. Let's get high on endorphins, eye contact, breath, movement, touch and fresh, juicy beats.
We invite evolution and growth!
We love to dance and we love to be together in community, and we'll be the first to acknowledge there is no better place to learn than on the dance floor in the moment. Except MAYBE in a space designed specifically to support you upleveling your Jedi bad-assery. Join Wren and our occasional guest teachers for an hour of psycillium activating, community soil amending somatic inquiry into epic presence and attunement and watch the garden of your dance burst and bloom with coherent connection.
COME ON TIME (IF YOU WANT TO DANCE)
This will be a closed container event. Doors will close at 8:00 and space is limited. Please get your ticket in advance or arrive early for the class to guarantee your spot. 
Cocréa is a practice space for the dance of life. We welcome all expressions of your being, of your freedom, of your intimacy. We welcome you getting into your pleasure, we welcome you getting into your grief, we welcome you releasing deeply into your joy. We create an agreement field that we're all going to show up all the way, play full out and pray full out while respecting the integrity and harmony of our shared container.
I took your couples dance workshop at my very first West Coast music festival (Beloved 2012) and it totally transformed the way I think about dancing with a partner.
Wren LaFeet
Facilitator • Cocréa Director and Co-Founder
Wren is celebrating the exquisite privilege of getting to dance in partnership for almost 25 years and loves serving humanity as a somatic permissionary. Teaching partner dance internationally as a practice for mindful, authentic living, and enlivening communities by facilitating his signature modality, Cocréa, has been his joy for over a decade. Wren guides humans curious about embodiment towards right relationship by exploring the realms of Self, Earth, Music, Sacred Other, Community and Whole through listening and responding, and inviting, allowing and embracing change.

Wren is an able bodied white male residing in Awaswas Ohlone territory (Santa Cruz, CA). As a non-binary identified, 11th generation American descended most recently from artist and blue collar working class parents, Wren is in a deep reckoning with the numerous and nuanced aspects of self that influence how we navigate interpersonal relationships and cultural identity on the journey into right relationship.
Wren promotes dance as an embodied approach to spirituality that spans the chasm between false refuge and celebration through surrender, and as medicinal salve for our modern ailments of disconnection and dislocation.
Wren holds a BA in Drama and Dance from the University of Washington, and has
12 years experience offering movement and embodiment facilitation professionally. He is a TEDx speaker, featured author in "ReInhabiting the Village" and ardent proponent of pioneering a new renaissance through authentic connection and consensual touch. 

HeartMath Certified Trauma-Sensitive Practitioner
RADT-1 Substance Abuse Recovery Counselor, Embodied Recovery
Certified Attunement Therapy practitioner, Tristan Bray
Awake at Work trained mindfulness facilitator